# Admin | Workplace App
Some features of the Kahu Workplace App require administrator set up.
# Sign in with Microsoft
Users can sign in to the Kahu Workplace App with a Microsoft account, using the Sign In with Microsoft button on the login page.
If your organisation isn't set up for signing in with Microsoft, users will be presented with the following screen if they attempt to sign in with a Microsoft account: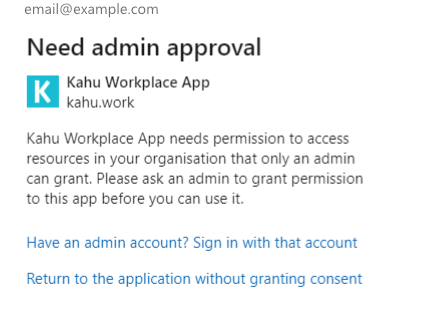 To allow your organisation's users to sign in to Kahu with Microsoft, the Azure Kahu Workplace App needs approval. First, login to Kahu with an admin Microsoft account at app.kahu.work/login. Then follow Microsoft's guide to Grant tenant-wide admin consent to an application. There are notes on there about how to restrict access to certain users, should that be required.